Growing Old, Stave Off Ill Health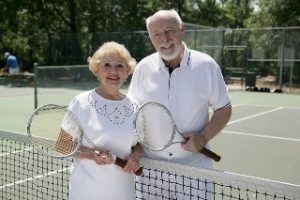 Part of life is growing older and we should all plan for that stage of our lives. The good news is that with correct lifestyle choices and planning, the later years can be just as much fun as any other part. The first and most important step in this process is aligning your beliefs with this reality.
What do I mean by this? Well if you believe that when you get older you won't be able to do much, will spend a lot of time sitting in a chair because moving around is too painful and you will need a cocktail of drugs to keep you going, then probably that will all come true for you. If on the other hand you believe it doesn't have to be that way and that you can still be active, healthy and enjoying life then probably that's how it will be for you. The reason for this is that the mind is immensely powerful in determining outcomes. And if you strongly believe something, your mind will subconsciously move you towards decisions that support that belief.
I once spoke to someone who said 'I'm 50 now and I need to slow down' and guess what, she visibly aged as all her thoughts supported that belief. On the other hand, I know people who are in their late 80's who go to the gym and swim three times a week, run to the shops and take no medication and never have. And they see no reason for anything to change.
So, my advice is to really think about what you believe because that is likely to be your future. Question your beliefs. Ask yourself why is it that different countries have widely different life expectancies. Why is it that some countries have much lower risks of cancer than the UK has. Your beliefs will be based on what you learned as a child and what hear and see is normal around you. But what is normal here is not normal elsewhere. Understand this and you will be more open to questioning and changing your beliefs.
It's your life. You reap what you sow.
If you found this interesting and would like to know more, get a copy of 'The Mind' at the clinic and ask about the 2018 Seminars and Meditation classes.
Clinical Director, Nicky Snazell's book 'The Body' is now available on Amazon.
We are absolutely delighted to announce Clinical Director, Nicky Snazell's long awaited third book 'The Body' is now available to buy on Amazon. This is the second book from Nicky's trilogy 'The Human Garage'.
Nicky says:
"My Human Garage, Volume 2, The Body, discusses all the hard work researchers put into creating the latest technology which combines and enhances the healing achievable through scared and ancient hands on techniques.My book embraces a utopia of pioneering physiotherapy and technology.
Within the covers is the analogy of a garage and how medics and therapist can lean more towards mechanics or healers.
There are 6 chapters, the first discussing my own learnings with my physical body getting damaged.Chapter 2 embraces the nuts and bolts of the body. Chapter 3 and 4 stories of patients and descriptions of treatment modality.The 5th is all about healthy eating and the 6th antiaging, healthy exercising.
The large appendix covers a deeper explanation of technology and a symptom sorter of musculoskeletal ailments.The bibliography details all the science I studied to write this book.
My driving purpose for this book is to share 30 years of study and clinical practice with fully integrated alternative and western medical /physiotherapy treatments.
I have experience of over 10,000 patient cases, and the knowledge of runing my own healthcare clinics what works and doesn't work. At a time when there is still a strong political drive to move away from hands on treatment, and still embrace pain meds my type of clinic may soon be extinct.
My dream for this series of books is for all this wisdom to be there for everyone, and if possible in the NHS.I wish is for everyone to be empowered with the knowledge of how to avoid unneccessary suffering and illness. After all healthy, fit bodies need fewer pit stops and therefore receive a smaller bill at their health checks/MOT's.Your greatest wealth is your health.
If you believe in my cause I ask that you pass this knowledge on."
Follow the link and order your copy of 'The Body' today
https://www.amazon.com/Body-Human-Garage-Trilogy/dp/0993167829
'The Body' Nicky's second instalment of her fantastic 'Human Garage' Trilogy is days away from release!
'The Body' Nicky's second instalment of her fantastic 'Human Garage' Trilogy is days away from release!
To celebrate we are offering an amazing 45% off any Magnetic Resonance Treatment. If you or someone you know needs help with Osteoarthritis, Bone Problems, Sports Injuries or Spinal Disc issues.
Call us on 01889 881488
"For a longer active life"
Offer ends 30th September
Terms and Conditions apply.
The 4 keys to health is all about investing in the healthiest happiest future you could wish for with sound scientific knowledge and big spoonfuls of commonsense and experience.Tonights blog is for nutrition week. The traffic lights approach to healthfor the 4 keys to health gives one point for every yes answer.
0 – 3: RED.
3 – 6: AMBER.
6 – 9: GREEN.
Scores: Now count up your scores – are you red, amber, or green for this key?
Initial score:
Once you've read the chapter and implemented any changes, take the
questionnaire again to see how much you've improved.This questionnaire is in 4 parts.
Diet and Blood Sugar Levels
• Is your weight good for your age and height?
• Do you have lots of energy and do you like to exercise?
• Are you free from joint pain?
• Do you rarely feel like dozing in the day and feel alert after eating?
• Do you hardly ever get stomach ache or bloating?
• Do you concentrate easily with a clear memory and few
headaches?
• Do you hardly ever need sweet food or caffeine fixes?
• Do you jump out of bed, raring to go?
• Do you rarely feel dizzy / irritable / have mood swings in
gaps between meals?
Water
• Do you rarely have thirst / dry mouth?
• Do you rarely get headaches?
• Is your urine a mild (not dark) yellow colour?
• Are your skin and lips moist, not dry?
• Do you have regular bowel movements most days?
• Do you have less than two glasses of alcohol a day?
• Do you have five helpings of fresh fruit and vegetables a day?
• Do you have several glasses of fruit water / juice / herbal
teas a day, even if resting?
• Do you avoid having too many salty snacks?
Healthy Low Homocysteine Levels (repairing DNA
and building nerves / cartilage)
• Is your weight satisfactory and stable?
• Are you a clear thinker with a good memory and rare
headaches?
• Do you eat healthily with green veggies, seeds, and nuts,
but aren't vegan?
• You are not an alcoholic, smoker, or heavy coffee drinker?
• Do you have little joint pain?
• Do you have great stamina without weariness?
• Is your cardiovascular system and blood pressure normal?
• Do you sleep well?
• Are you rarely angry, irritable, or down?
Essential Fats
• Do you have healthy hair?
• Do you have flexible, pain-free joints?
• You are not taking painkillers?
• No arthritis, asthma, or eczema?
• No diagnosed cardiovascular problems?
• Do you spend more than thirty minutes a day outside in
sunlight?
• Do you eat healthily with oily fish, about four eggs a week,
seeds and nuts most days, and fewer than two alcoholic
drinks a day?
• Do you have a good memory, learning abilities, and
concentration?
• You don't get down, anxious or unnecessarily angry?
Anti-Ageing, Anti-rot, Antioxidants
• Are you a quick healer?
• Are you younger than middle aged (40)?
• Do you have healthy skin?
• No diagnosis of cancer or cardiovascular disease?
• Don't bruise easily?
• Do you live in quiet, clear air, healthy countryside, not
near major roads?
• Do you eat healthily with five lots of fruit and veg a day,
raw seeds / nuts, and at least two oily fish a week?
• Do you take antioxidant supplements?
• Do you exercise and raise your heart rate five times a
week?If you got a red key read my blogs or get a copy of my book,through www.thepainkiller.co.uk,www.painreliefclinic.co.uk, or amazon.
Using food as medicine to stay out of pain
Using food as medicine to stay out of pain.The Wrong Food Feeds Pain
Most of us eat too much of the food that enhances pain, and too little of the
food that reduces pain. Soil nutrients are not what they used to be, as they
have more additives, more are being processed, and more have a longer
shelf life. Our cells depend on good food and water for creating healing, energy
and cleansing, but because of the poor food we eat (which has additives
and is heavily processed), we have persistent inflammation contributing
to musculoskeletal pain, arthritis, diabetes, heart attacks, strokes, cancer…
you name it. Refined grains, omega 6 fats, too much sugar, and too much
dairy – especially milk – all stress the system out, and pain due to too much
inflammation damages nerves beyond any injury, and also causes tissue
pain in the tendons, ligaments, and joints.
Our ancestors were hunters and gatherers who lived on a planet with a
relatively low population, where the soil was rich in nutrients with hardly any toxic chemicals. They ate good food medicine, fresh fish or meat, berries, roots (therefore, a lot of
healthy omega 3 oils), and fruit and vegetables high in antioxidants. They
had no processed foods, no wheat, no trans fats, no excess sugar or omega 6
and no processed dairy. Even if you eat some of these foods yourself, pulling
some fresh vegetables out of your garden – from well fertilised soil – is a
small start. For our ancestors,using good food as medicine helped to control chronic
inflammation, something which pervades the modern day Western lifestyle.
We are becoming increasingly obese, including our children. We are a
fat nation, and because of this, we find ourselves in a major health crisis.
This extra fat not only strains our joints, but these engorged fat cells fire
off inflammation. Organ fat is crawling with immune cells, prolonging
inflammation and damaging the surrounding tissue. Living longer means
that these days, a lot more of us are over 35, and around this age, our
natural pain blocking anti-inflammatories (proteolytic enzymes) dry up.
We are, essentially, rotting, as these are the guys that usually help to shut
the pain gate in the dorsal horn of the spinal cord. Our next generation
is not going to live longer than us, and this is the first time in history that
this has happened – it says a lot, doesn't it? Due to needing more help in
order to control our body and not getting it, we make too much fibrin,
causing too much scar tissue in our tendons, skin, and joints. This then
causes arthritis, fibromyalgia, artery narrowing, and poor healing all round.
I now have ground breaking technology at my practice that puts the clock
back on joints, however, cells still need a healthy environment in which to
flourish in the first place.