What We are Doing About COVID-19 At Nicky Snazell Clinic
COVID-19 has had a dramatic affect on all our lives and not surprisingly at Nicky Snazell Clinic as well. Our foremost concern is the safety of patients and staff and we strive to stay fully up to date with the almost daily changes and wherever possible keep ahead of the curve. More on that later.
Screening
Even if you are an existing patient, but definitely if you are a new patient, we will take you through a screening process to make sure it is safe and justified for you to come in for treatment. There will be quite a few questions, and we ask you to bear with us on this as it's all in our best interests. For sure, the questions asked will constantly change in line with latest guidelines. Where the risk is deemed higher, then a more detailed assessment will be needed with a physiotherapist, before treatment can be authorised.
Please note that in cases where you may need to be accompanied, then that person also has to pass screening to be allowed on site.
Changes At The Clinic
All of our 13,000 plus patients will know that our aim has always been to create a welcoming, peaceful and relaxing environment from the moment you walk in the door. Well that of course, to an extent, went out the door when we adjusted rapidly to the pandemic. Our waiting room has been effectively closed and patients are now asked to wait in their cars until their allotted start time. At that point they should come in alone with a face mask on, use the readily available hand sanitiser and their therapist, wearing full PPE, will take them to the treatment room.
At the end of the appointment the therapist will, if necessary, book a follow-on appointment and we then ask that you go to reception, where we have installed protective screens, to pay in advance for the next appointment. To speed this process, we now only take payment by card and by touch whenever possible. Where a payment requires a pin, the terminal is sanitised after use.
We then ask that you leave the clinic immediately as we want to minimise time that patients are in the clinic. Please don't think we are being rude if we don't chat as we used to. We are minimising your time on site. We have also staggered the start times between therapists, to avoid multiple patients being on site outside of a treatment room at the same time.
Cleaning
All rooms are sanitised between treatments and thus treatment times will be slightly shorter. In addition, we use a spray which lasts up to 5 hours on surfaces and this is used on all common touch points every 3 hours. Thus, for example, when you open the door to come in, you can be sure that the handle and surrounding woodwork will have been sprayed and is as safe as is practical.
We understand of course that some patients will need to use the toilet and we request that if needed, you first advise us so that we can sanitise after each use. Note, however, that the toilet is also thoroughly sanitised every 3 hours with our 5 hour effective spray. Please try to avoid the need to use our facilities wherever possible.
Your Part
We require that you use a face mask which covers your mouth and nose at all times while inside the clinic. All of the available scientific information supports the need to wear masks inside a building. It is important for each of us to realise that wearing a mask helps protect those around us from us. By not wearing a mask properly, this would be putting our staff at additional risk and this is not acceptable.
Patients at times have found difficulty in wearing a mask, but we politely request that you must do so for the short time on site. Bear in mind that our staff are in full PPE all day to protect you.
Patients who do not comply with this request may be refused further treatment.
We also need your help in running to time. It is vital that you have vacated the treatment room on time, leaving sufficient time for the room to be sanitised. Any overrun will mean that patients will be held in the waiting room and this is not acceptable.
Payment In Advance
We have changed our payment procedure, as we now ask for payment in full at time of booking and in 99.9% of cases this has been fully understood and accepted. On one or two occasions, however, patients have misunderstood our reasoning for this. We have made this change by necessity, as many patients leave the building immediately after their treatment and it would be totally unworkable for us to have to continuously call patients to take payment. We had to come up with a single system for all, so this change is not a reflection on any one patient.
Staying Ahead Of The Curve
Part of our role is to stay up to speed with the ongoing changes caused by our government updates, but in addition, we, and in fact all of us, can choose to operate more safely if we wish. An example would be that last night Scotland announced that most COVID-19 infections were caused by meeting people from outside our household within our homes and thus banned this. In England a more relaxed position has been taken. It is, however, up to us to decide which position is more in our best interest. If we at the clinic feel it worthwhile to use more strict guidelines to help protect all, then we reserve the right to do so.
Having lived in the USA twice, I personally check in on their news channels and in particular I look for information from Dr Anthony Fauci, who is the USA's leading disease expert, having been advisor to the last six Presidents. He talks more openly and simply than we tend to get in the UK. He is also completely apolitical and is only interested in scientific proof. There is also a wealth of real world, scientifically based information put out by Dr Sanjay Gupta.
Yesterday Dr Gupta interviewed Dr Fauci and for those who want a better insight and understanding of where we are right now, then I recommend you watch the interview on YouTube.
For those who don't have time to watch this, here are some snippets:
Dr Fauci is optimistic that a vaccine may be ready for approval by November or December, based on the limited results available in the small-scale phase one and two trials. But, and this is a big but, the all important large scale phase 3 trials are double blind, placebo controlled trials and so even he has no idea what the current results are. In fact, nobody does, except one or two statisticians who see unblinded results. In simple terms, a double blind trial means that only the statisticians know who is getting the placebo and who is getting the vaccine being tested, not even the manufacturers, as the trial is conducted by an independent group. This is the gold standard for scientific testing and is not something that can be politically manipulated.
The best advice is that we must all wear face masks if social distancing can't be maintained.
What we didn't know a few months ago was that 40% to 45% of COVID positive people were asymptomatic, nor were we aware that a substantial proportion of the infections were coming from those who were without symptoms. That makes it overwhelmingly important to wear a mask.
There is a suggestion that some of the virus droplets in the air may be light enough to hang around and circulate, thus acting as an aerosol. The facts are we don't know yet, but in many respects, it doesn't matter. It just emphasises the advice given: wear a mask, keep your distance, avoid crowds, wash hands regularly, ventilate rooms.
Yes, the elderly are more at risk, but people with underlying conditions, at any age, are at risk.
The overwhelming issue is that we all need to get on with our lives while we minimise our risk during this pandemic. We believe we are taking every possible step to minimise that risk and that we have created a far safer environment than most.
Take care, be safe, think of others
Spinal Disk Bulge Physiotherapy For A Spinal Disc Rupture
Can a disc slip? The simple answer is no. It's a layman's term that is unfortunately very misleading to the general public."My disc has slipped out, can you put it back in" is not an uncommon conversation opener on the telephone. Of course, it's quite difficult then to get the caller to understand that this can't actually happen, which is why Spinal Disk Bulge Physiotherapy is key to recovery.
Let's look at the spine's anatomy and in particular the role of the disc.
The spine is made up of 7 cervical (neck) bones called vertebrae, 12 thoracics (middle) vertebrae and 5 lumbar (lower) vertebrae. The top 2 vertebrae in the neck are a little bit different, so putting those to one side, between each pair of the remaining vertebrae there is a disc, the purpose of which is to provide shock absorption and allow movement. The disc itself is attached strongly to the vertebrae and cannot slip out.
A disc is made up of a tough fibrous structure on the outside, layered in exactly the same way we make cross-ply tyres. On the inside, there is a soft, crab paste like moist material. As we age this tends to dry out. There are also end plates in contact with the vertebrae. The spinal disc is 70% to 90% water, so making sure you are well hydrated is very important to disc health.
There are two major types of damage to these discs. The first is when the disc is overloaded sufficiently to cause a protrusion, or bulge in the outer wall, as in the diagram above. This is similar to what you see on the side of a car tyre when it has hit a curb. Sometimes this is referred to as a slipped disc. It's not possible to just push the bulge back in, but specific exercises can help to relocate this and over time the disc may heal itself.
The second and more serious damage is when the overload has been sufficient to rupture the outer fibrous structure and force the inner material to squeeze out. This is called a herniated or ruptured disc.
What Are The Implications Of A Disc Bulge Or Herniated Disc?
A disc bulge will cause pain if it is central and compresses the central spinal column, or if it bulges to one side into the exiting nerves. In either case, if the compression is significant enough, it will cause pain and/or numbness and weakness and possibly loss of control in the limbs.
If the disc bulge is central it could cause problems down both sides of the body. If the bulge is on one side, it will only cause problems on that side.
If the disc has been ruptured or herniated, the same problems with compression of the central spinal column and exiting nerves can occur. In addition, if chemicals from the inside of the disc come into contact with the nerves, it can cause severe pain even without any compression of the nerves. In such cases, a course of anti-inflammatories will most likely be prescribed.
Can Spinal Disk Bulge Physiotherapy Treat A Disc Bulge or Herniated Disc?
In many cases, a bulging disc and a herniated disc will over time heal itself. The time required may depend on the severity of the problem and may take from weeks to months to resolve. Physiotherapy treatment can help reduce the pain much more quickly. The key is to get an accurate diagnosis through a physiotherapy assessment, possibly needing an X-ray or MRI. Treatment can include specific exercises to help reduce the disk bulge, Gunn IMS dry needling, electroacupuncture, laser, shockwave, core stability rehab and postural rehab. In severe cases, surgery may be needed.
If you have suffered a recent back injury or had a long-term problem then it's advisable to get your condition assessed and treated. We have extensive skills in treating spinal pain and clients travel from all over the UK and abroad to seek our help.
Call 01889 881488 now.
Growing Old, Stave Off Ill Health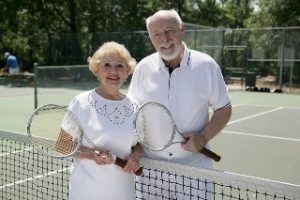 Part of life is growing older and we should all plan for that stage of our lives. The good news is that with correct lifestyle choices and planning, the later years can be just as much fun as any other part. The first and most important step in this process is aligning your beliefs with this reality.
What do I mean by this? Well if you believe that when you get older you won't be able to do much, will spend a lot of time sitting in a chair because moving around is too painful and you will need a cocktail of drugs to keep you going, then probably that will all come true for you. If on the other hand you believe it doesn't have to be that way and that you can still be active, healthy and enjoying life then probably that's how it will be for you. The reason for this is that the mind is immensely powerful in determining outcomes. And if you strongly believe something, your mind will subconsciously move you towards decisions that support that belief.
I once spoke to someone who said 'I'm 50 now and I need to slow down' and guess what, she visibly aged as all her thoughts supported that belief. On the other hand, I know people who are in their late 80's who go to the gym and swim three times a week, run to the shops and take no medication and never have. And they see no reason for anything to change.
So, my advice is to really think about what you believe because that is likely to be your future. Question your beliefs. Ask yourself why is it that different countries have widely different life expectancies. Why is it that some countries have much lower risks of cancer than the UK has. Your beliefs will be based on what you learned as a child and what hear and see is normal around you. But what is normal here is not normal elsewhere. Understand this and you will be more open to questioning and changing your beliefs.
It's your life. You reap what you sow.
If you found this interesting and would like to know more, get a copy of 'The Mind' at the clinic and ask about the 2018 Seminars and Meditation classes.